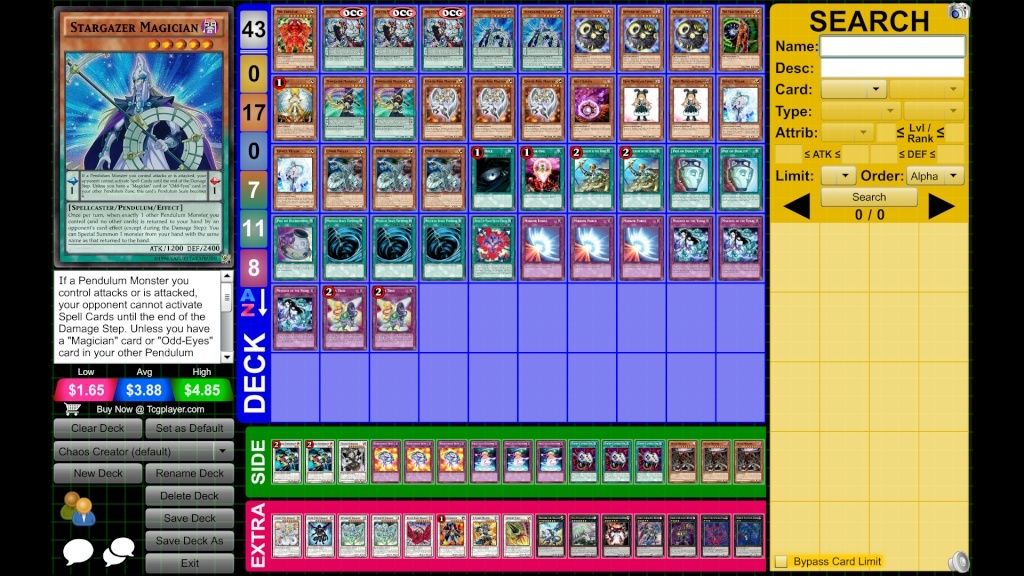 This is only an example, I have other decks and I'm LF> promoves just overall.
This is Chaos but, with Chaos-End Master. The Creator's and The Chaos-End stuff must stay bc, that's the reason of the deck cuz I like them and the Pendulums stay unless I find better ones. The Pendulums help special summon.
(In Order)
Deck: 43
~ Monsters - 24
X1 The Creator
X3 Odd-Eyes Pendulum Drgn
X2 Stargazer Magician
X3 Sphere of Chaos
X1 The Creator Incarnate
X1 Honest
X2 Timegazer Magician
X3 Chaos-End Master
X1 Ally Salvo
X2 Ebon Magician Curran
X2 Effect Veiler
X3 Cyber Valley
~ Spells - 11
X1 Dark Hole
X1 One For One
X2 Reinforcement of the Army
X2 Pot of Duality
X1 Pot of Dichotomy
X3 Mystical Space Typhoon
X1 Rank-Up-Magic Quick Chaos
~ Traps - 8
X3 Mirror Force
X3 Mischief of the Yokai
X2 Ojama Trio
~ Extra - 15
X1 Light End Dragon
X1 Dark End Dragon
X2 Stardust Dragon
X1 Black Rose Dragon
X1 Goyo
X1 X-Saber Wayne
X1 Armory Arm
X1 Thunder End Dragon
X1 Mecha Phantom Beast Draccosack
X1 Photon Strike Bounzer
X1 Number C80 Requiem in Berserk
X1 Number 80 Rhapsody in Berserk
X1 Number C43 High Manipulator of Chaos
X1 Number 43 Manipulator of Souls
~ Side - 15
X2 Formula Synchron
X1 Chaos Goddess
X3 Widespread Ruin
X3 Pikeru's Circle of Enchantment
X3 Enemy Controller
X3 Chaos Hunter
It fairs pretty well, it's not like a photon deck or anything or wind-ups with special summoning but, I will make those decks, I just like this one specifically and want to make it work. Sure there are other decks out there but, this one is special to me, you know? Mainly bc, I stuck with the cards for so long, it has sentimental value.
I found a card to use against Photons actually, Mind Crush and Breakthrough Skill.